Scott
xx
Update well and truly due, have been away on holiday and also had few problems so not been updating as much as should as been occupied with few things but will definetly update in next few days and have loads holiday pictures also.
Current Location:

House

Current Mood:

tired


Jenna is 1 Year old today.

Having two little get together one in EK for joannes family and one in Airdrie for my family. So far opened a few present from joannes dad and brother and shes just surprised and happy with all the new stuff lol.

Glad of the day off also but because staying in Airdrie tonight need to leave at 6:30am to get back to EK as start work at 9am. Gamestation have now made me Monday to friday 9am to 6pm. Great of extra money and another good step to getting a proper job.

Going now just quick update.

Scott
My god this year has gone so quickly but at same time so much packed onto it.
Current Location:

House

Current Mood:

happy


HEading off to edinburgh in about hour and a half plans for the weekend is today go to xmas markets, out for meal and to my mates in edinburgh, just me and joanne the wee one staying at joannes grans.

Then saturday joannes taking me to edinburgh dungeons as been done and changed since i was last there, then meeting up with my cousin and his fiancee and tiz and emily and then were all going for a meal then out on the town probably head to retribution at studio 24. Probably during day some drunken shots of the big ferris wheel on princess street too lol.

Sunday woohoo :( im 30. Going to edinburgh zoo in the morning as there having a free day as its also st andrews day. Bleeming trying to take the attention away from my birthday then were heading home so i can spend my birthday with jenna also.

So cheerios
im off to get p'shd.

Scott
Dam i am getting old going to be 30 on sunday.
Current Location:

House

Current Mood:

cheerful
Was an up and down holiday at times as joannes dad and brother were there, although joannes brother was cool joannes dad was a pain as was always there and didnt give any peace for anyone to do anything themselves i.e joanne wanting to do a bit of shopping on her own joannes dad said we cant leave joanne on her own this holiday". Why the fuck not she know the place like back of her hand been there that many times and shes not a child. Upset joanne but eventually he listened.
Got to jog the old memory here now what else went on as not typing about every point, me and joanne split up again then got back together again hehe usual. She also fell out with me at the airport because i gave dylan moran abuse and the twat did have me and joannes brother in stitches when he tried to walk through locked doors and turns round and goes cant go this way then, no you cant you tube hence why dont open until boarding. Went to aqualandia which was just bludy awesome and definetly going back as guessed i love the water.
I was battling after the rangers celitc game as usual. Joanne got her first tattoo done with the wee ones name, she'll post it in her lj for all thats also on hers as dont want to show it before she does.
I got the weans name and date of birth done also wanted her handprint done and would think that a tattoist would be able to touch a little bit of a print up i have but said couldnt do it, i had the wee ones handprint done and she moved a bit so just needed him to when copying it to round of fingers, like say he said he couldnt do it so will get it done over here at a real artist/tattooist.
Anyway heres pictures of what got done, pic isnt greatest as makes the tat look out of shape as the J and the A are same level and same with date of birth if more parrelel but its way camera was and just cant take a hreat photo haha and as also see ive left the gap for jennas handprint to go into.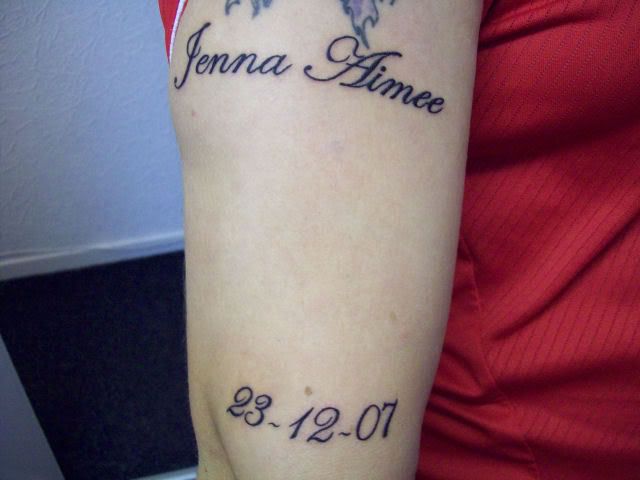 Anyway now back home and got a cold no surprises there as going to extreme heat to coldness not greatest thing.
Short entry but if i typed everything that happened be one hell of a long entry.
Scott
xx
So another holiday comes and goes and my god it was very hot, came back more tanned than have been in a very long time. Jenna struggled a little and wasnt until about 6 days into the holiday that she got used to the heat which was shame although she loved getting naked and into the swimming pool hehe.


Was going to update here with whats been going on but just been so lazy and cant be bothered at moment as nothing of great importance has really happened.
Now i have decided to join the twitter phase and bore you's all with my daily going ons, well suppose not you's all as not all of you's will be on twitter but anyway if want to add me im ScottMc78.
Not much happening in other news, was also chloe my neice's 2nd birthday but wont get down to see her until later on today to give her presents.
What else, ohh god yeah jenna over the last few days has been cutting her first tooth and has been in a bit of agony with it. Shame but meant to be the first is the worst, something dont think any of us can remember.
A Happy Jenna playing in her new walker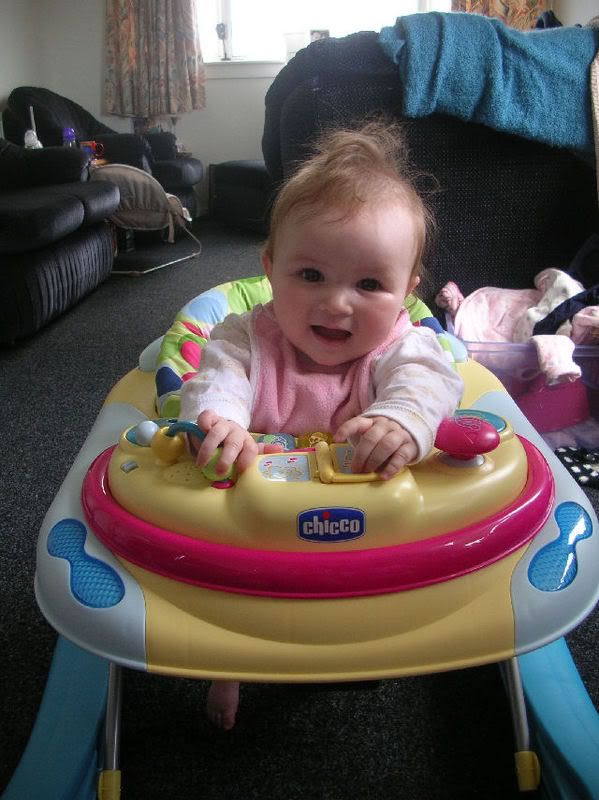 bludy 3:30am in the morning dont know what the hell im doing up the now just cant sleep lot on my mind also but things will get resolved just a matter of time and as usual its money issues.
Anyways
Catch yous later
Scott
x
So yesterday was my first ever official (lol) fathers day and woke upto big smiles and loads of play from jenna which was nice. Got a card which would have done but also got Ted Baker aftershave, A Dad Mug and a nice Wee dad Statue thing.


So between being in mancher till we left wednesday 21st for benidorm was a week off running around hectically trying to get things sorted and done. Trying hard to remember anything else that happened but cant.

So yeah the holiday was great always good to get away and this was Jennas first ever holiday also. Was a change being in for around the 7/8ish mark nearly every night(two nights out later), got too get used too it when jenna decides its time to go we get up and go. Shame as think the night joanne wanted to play bingo joanne got a bit annoyed as she hadnt really done much in the holiday.

Anyway be as brief as possible and remember im getting old so trying best to remember what happened lol.

Wednesday - Thought may have a nightmare with jenna on the plane but she was great, only time she cried was when she was hungry couldnt have asked for better as thought take off and landing would set her off. Anyways got picked up in Alicante by mark and met my mum dad and my neice rachel who had been there for a while. We went out for a wonder and something to eat during the day before me and dad went out at night to watch the champions league final. More relaxing sitting about day.

Thursday - We got up earlish and me joanne jenna rachel and my mum all got the bus to albir, was scorching hot and first time jenna had seen that big yellow thing so bright. We got a bit in for shopping at local supermarket save bit money here and there then we went for breakfast at irish cafe JP Shevlins, Was that hot my sunglasses melted. After that headed back and me joanne and rachel jenna got ready to go swimming, we went to the indoor pool for a bit then headed upto the clubhouse afterwards which we were met by my mum and dad. So this was the last thing done with mum dad & rachel as they got picked up to head to airport and back home. So joanne stayed in with jenna and i went out to Golden Last to watch the football. Met up with few really cool guys during football and decided instead of drowning our sorrows after them won the league we would have a good sing song then a suggestion to head to cafe benidorm happened.

CAFE BENIDORM - The whorehouse of benidorm if cant pull there give up lol

Anyways about twelve of us started heading down and only two of is managed into the club all dissapeared on way down, although wee northern irish tommy caught him chatting to a prostitute so know what he ended up doing. I got in about 5:30am the next morning.

Friday - Nursing one big hangover is about as much as i remember. this is shocking cant remember what done apart from in the morning when went swimming with joanne and jenna. Sorry cant remember what done sure had an early night though.

Saturday - My god saturday, day of scottish cup final, beforehand though it was quite cloudy in the morning so i had jeans and a top on when when we went for a walk along beach and around shops. Sure as hell it turned into the hottest day, felt like an idiot about in jeans sweating like a pig in heat. Got a great suntan on the arms though. Like say we had bit of shopping then headed to the golden last to watch the Scottish cup final, i had originally planned to be out all night and get wrecked with few others but after watched rangers lift trophy was bit shattered so me and joanne headed to chippy and then we all headed back home to where settled jenna down and then watched the eurovision song contest. How much of a fix is that competition getting.

Sunday - Sunday we daftly headed to albir again forgetting that a lot of things in spain shut on a sunday and albir is a very small village very spanish so only one supermarket open so got a few bits before heading into central benidorm again. Once again this is shocking ive forgot what we done later on in the afternoon and night. Told you im getting old.

Monday - Went present shopping during the day and up into old town for a while also that took up most of the day before we decided to head for a meal in the Mandarin (chinese resteraunt), at night was back and get suitcases ready and nearly done packing.

Tuesday - Last day of holiday went for a huge walk again the three of us around central benidorm, then up into old town back along the beach and into centre benidorm again, finished with little drink and then back to settle jenna down, we were getting picked up at 3:30am weds morning for our flights so early night and get final bits done. Dam forgot also got a new tattoo, just five stars above my union jack tattoo on my neck. Little bit of a fuck up on it but will get that fixed here. You'll see in picture

Then as say was back home early weds morning. Overall was a quiter holiday that me and joanne have ever had but at the same time a better one due to it being jennas first and cant wait till august when we go back again. I would never come back if had a decent job opportunity. And one day cant remember what day i slept with the window open and woke up covered in mosquito bites, dam things covered my back my blood must be tasty.

Anyway have typed a hell of a lot more than planned too so onto the photographs, have loads but these are just few i like best.


So back now and loaded with the cold, sitting typing this and the last post sneezing like crazy. Been a great day weather wise today but ive been stuck in the house.

Watching britains got talent the now never usually watch many programmes like this but enjoyed this one, final tonight and that george boy won it, have preffered a few different acts that were not in final to the ones that actually got through to tonights final. Really feel the kids George and andrew had the sympathy vote to get into the final three, although especially glad that andrew didnt win it as i do admit he was a great singer but the girl was far better than him and deserved to be in final three.

And what about that eurovision song contest, my god that ukraine woman deserved to win it for looks lol. Anyway my point being its a shambles at how buddy paly country voting goes on, shame as even if we did have a decent entry we'd never win it anyway from now on.

Scott
x
So who did read my last post? Shocked if anyone apart from Joanne.


Anyways where to start since last posting UEFA Cup final happened and lets all celebrate the media and manchester police for gettting there way and not even giving out the true stories and what really happened, phrase turned blind eye in cases.

Anyway this post is about me, so the day started with me and cousin billy getting on the megabus at buchanen street and was really lucky as had great bunch of guys/gals on the bus down everyone got a little bit merry hehe and had some great fun. Once down in manchester it was hectic as so many fans as most wouldve seen anyway, we originally headed to piccadilly to watch the game but decided albert square would be best so headed there with very big carryout at hand. Shame about the scoreline but was great to meet so many new people and in party atmosphere. Wasnt till after the game me and billy walked straight into the rioting. Was a good watch some of it but my cousin shit himself and sort of flaked out panicked and ran away from me, think he only came back when realised i had his money. Anyways played a game of football while the rioting was happening was well fun.

Anyways we decided to crash at chorlton street bus station and about half an hour later the A-team arrived (riot police) very heavily handed escorted a bunch of idiot rangers fans and zenit fans into station and barracaded us in. So what happens yes you guessed it fighting broke out but it was weird. The coppers came in through the windows etc and very heavy handed with kids also which was out of order, even hitting people just wanting to go out for a fag. Anyways i got lot of videos and so have others of what really happened down there, although i have also seen videos of things that happened with police in piccadilly that is out of order. They arrested who they wanted to this is what i meant about the weird part, anytime ive been involved in something near similar the police arrest everyone but they came in as if they knew and were watching beforehand. Strange

Going to end the manchester bit there as know most on my journal aint really interested so not going to bore yous too much. Some pictures of me looking like a fud though.

AFTER ALL THAT I MUST ADD IN NO WAY DO I SUPPORT THE IDIOTS THAT DID RIOT AS THEY WASTED A GOOD PARTY ATMOSPHERE FOR LOADS OF US AND IMPORTANTLY HOW THE CLUB IS VIEWED AND THOUGHT OFF BUT THE ORGANISATION AND POLICE WERE OUT OF ORDER ALSO.


Have loads more photos but wont bore yous with them, also have loads vids too.

Decided to do another post for the holiday as have loads photos too post that many of jenna want to show off.

Will do next posting soon. Wonder how many will actually read this posting?

Anyway
Scott
xx
Was going to update last week but have had that much on and to do havnt really gave it much chance to do so. This will maybe be a bit of a weird post as will be a bit picture heavy so will just be a bit short on things that happened i.e not going into too much detail etc


Bludy first bus, well SPT suppose, have suspended my lessons the now as SPT want a disclosure from all new drivers, couldve got it before i had started lessons the idiots as first asked for disclosure and got that sorted really quickly now dont know how long SPT want to suspend the training for as ive got my driving test already booked for 13th May so better move there arses.

My cousin billy is coming to manchester with me on 14th may hopefully rangers will be in the UEFA Cup Final but even if not we will go down and enjoy a good bevvy.

On note of bevvy me and joanne were planning on going out this weekend havnt had a proper bevvy, well one good night out in about three months, on bevvy note though doing me world of good as still gaining weight and losing fat now 15st 5lbs strength increasing really good joanne says she shes me getting bigger all the time plus few guys at the gym mentioned how the see me prgoressing so really happy with that.

Going back on the testosterone though as want to push it for my holiday want to be over the 16stone mark and have diet going well the now also but considering getting universals animal cuts and doing a month stak, when first trained back in 2000 used to take ephiderine and caffeine tablets which gave me great fat burns and energy while doing cardio so looking for same results just in a safer way this time as stupid young guy i was taking ephiderine like there was no tomorrow which can be dangerous, animal cuts want to get as contains a vital product called L-Carnitine which helps in burning the fat and not effect my muscle gain too much, altough need to keep the calorie count up to maintain muscle mass gains.

Anyway that probably bored yous, updating my bodyspace and will update soon as have posted all my workouts etc been doing goals gains, soon put updated photos on.

Aye so change subject, what else?? Ohh aye been watching two crows building there nest outside our window, quite cool over last week seeing them build it from scratch, be nice when seeing the wee chicks in it.

Shaved all my hair off last night, well not all of it just grabbed the clippers put number four guard on and attacked my head, came out not too badly, id say. my hair was just getting too long again and was starting too look really scruffy, was meant to get haircut during day but had to watch the wee one so just shaved it off.

Feck aye forgot, jenna started solids through the week, well say started tips of teaspoons for first two days then a teaspoon next, gradual increases, seems happy enough got her daddys appetite eat anything.

Think thats it, no sure but anyway gonna finish off my very bland chicken and brown rice then its off to gym in an hour.

C'mon the rangers.

Scott xx

Nothing great importance really happened of late just thought give quick update.
Current Location:

Living room

Current Mood:

energetic

Current Music:

fozzy


So took a wild guess it was someone of the forum due to it being all forumers posting, now im still confused if i actually knew the person or not because a lot of forumers ive met ive known by the forum name not real names.

Can someone clear up with me what fraser's forum name was? That way i will know if i do know him or not.

Sad someone has passed away at such a young age.

Scott
Just seen some postings on Bebo of People saying RIP Fraser etc
Current Mood:

confused